Strengths of the MYP
Sunday, February 19, 2023
11:14 PM
(View: 285)

The Middle Years Program (MYP) supports students to make connections between their education and the real world through interdisciplinary and inquiry-based learning.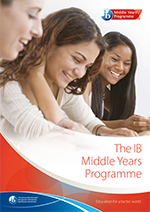 The MYP encourages students to build confidence in managing their own learning and develop a personal understanding of global challenges and responsibilities within their community, whilst building a sense of self and a greater awareness. The MYP allows students to learn professional and vocational skills in preparation for the IB Diploma Program (DP) or Career-related Program (CP).
Find out more about the MYP.
How the MYP works
The MYP is a five-year framework that consists of eight subject groups, with each subject group involving at least 50 hours of teaching per year. The MYP provides flexibility in carefully defined subject groups that allows students to meet local requirements and personal learning goals.
For more information, read about the MYP subject briefs, IB student assessment and MYP curriculum.
Research on the MYP
A recent study shows that MYP students performed significantly better than students from non-IB schools in the ISA focus areas at several grade levels and finds that there is strong evidence that MYP students perform well academically. MYP students performed particularly well across many grades in Narrative writing, Expository writing and Scientific literacy, and had a notable result for Scientific literacy at grade 10. In addition, an independent comparative analysis of MYP and GCSE assessments found that the two qualifications are comparable in terms of cognitive demand and the level and range of skills assessed.
For an overview of MYP studies conducted from around the world, read the MYP key findings.
For further research about the impact of the MYP on students, schools and teachers, please read through the MYP research outcomes.
"There is possibly no experience which supersedes the impact the process that the MYP personal project had on my development as an IB learner in my lifelong journey."
---
– Saif Al Suwaidi, MYP student at Qatar Academy, Doha.