The International Baccalaureate Organization aims to develop inquiring, knowledgeable and caring young people who help to create a better and more peaceful world through intercultural understanding and respect.
To this end the organization works with schools, governments and international organizations to develop challenging programs of international education and rigorous assessment.
These programs encourage students across the world to become active, compassionate and lifelong learners who understand that other people, with their differences, can also be right.
The IB Learner Profile is the IBO mission statement translated into a set of learning outcomes for the 21st century.



IB Benefits for Schools



https://www.ibo.org/benefits/benefits-for-schools/



IB Benefits for Students



https://www.ibo.org/benefits/benefits-for-students/

The IB Eplained for parents and students

https://www.youtube.com/watch?v=6mRI6Mcp5hM&t=36s
Overview
American University Research Academy became an IB Candidate School in the Fall of 2022 for both the Middle Years Program (MYP) and the Diploma Program (DP). Our goal is to complete the authorization process and become one of the top performing high schools not only in America, but in the world.
The IB program provides a rigorous education for highly motivated and academically proficient AURA students in grades 9 through 12. It represents a deliberate compromise between the demand for specialization in the high school curriculum and the emphasis for breadth of knowledge. The IB program is unique in that it provides a cohesive interdisciplinary education leading to a diploma that is recognized by universities throughout the world.
An IB diploma candidate pursues studies across multiple subject areas:
Studies in Language & Literature: English (with Spanish for fluent speakers as an additional option)
Language acquisition
Individuals & Societies (similar to social studies)
Experimental Sciences
Mathematics
The Arts or a sixth subject elective.
These subject groups are prescribed by the IB Hexagon. This requirement ensures a broad exposure across the liberal arts spectrum. In addition to the course work and passing grades on examinations in these six subjects, diploma students must complete a Creativity, Activity, Service (
CAS
) proposal (requiring an equitable balance of participation in creativity, activity and service experiences for 18 months, starting the first day of the junior year), an extended essay (
EE
) of 4,000 words, and the Theory of Knowledge course (
TOK
). Teachers provide interdisciplinary instruction whereby students study common processes, themes and materials within and across the subject areas. Evidence of learning in the six subject area courses plus TOK includes a combination of internal and external assessments. Internal assessments are designed by the IB but are administered and scored by the classroom teacher using IB scoring rubrics. External assessments are scored by IB examiners including the May examinations as well as additional assessments for courses in groups 1 & 6.) The extended essay is graded externally by IB examiners. Students who participate in the full diploma program will fulfill the State of California graduation requirements as well as IB diploma requirements.
The Curriculum
The focus of the curriculum will be the courses prescribed by the framework pictured below: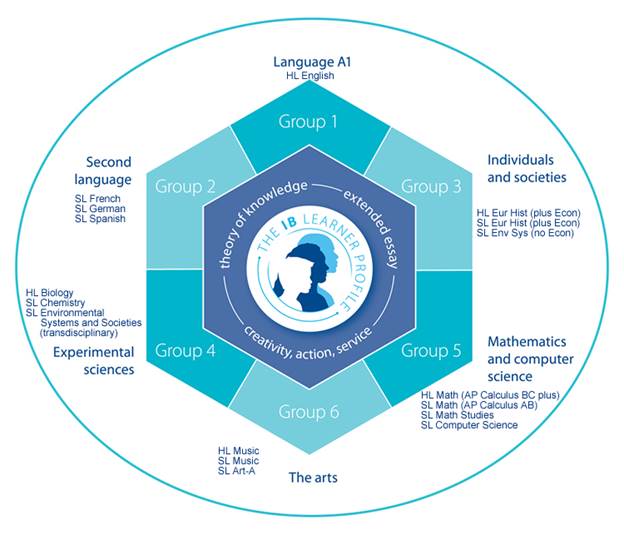 The curriculum contains six subject groups together with a compulsory core made up of three separate parts that are central to the philosophy of the diploma program. Full diploma candidates must take three courses at the Higher Level (
HL, two-year courses representing 240 teaching hours
) and three courses at the Standard Level (
SL, one or two year courses representing 150 teaching hours
). Students are thus able to explore some subjects in depth and others more broadly. The science-oriented student is challenged to learn a foreign language and the natural linguist becomes familiar with laboratory procedures. Active citizenship and global perspectives are encouraged in each area of the curriculum.
Students not wishing to fulfill all the requirements of the IB diploma are strongly encouraged to take individual courses in the IB curriculum to help them prepare for future education. These subjects are referred to as Diploma Program (DP) courses and the students who study them are referred to as Diploma Program (DP) course students.
At American University Research Academy we offer the following courses in the six curricular IB groups
Diploma Program Grading System
The Extended Essay and the Theory of Knowledge course are jointly graded with a maximum of 3 points + CAS completion. Diploma candidates add their points from the six subjects together with any additional points obtained from the Extended Essay and Theory of Knowledge. Students need a minimum of 24 points to obtain a Diploma and must not score a 1 or 2 in any Higher Level subject. Any grade below a 4 must be balanced by another grade above a 4 at the same level. A score of 30 or above is considered to be good. Scores of 35 or higher are excellent. A perfect diploma score is 45 points. All IB Diploma subjects are graded according to the scale pictured below. For additional information regarding the awarding of the diploma or assessment procedures, please consult the General Regulations: Diploma Program.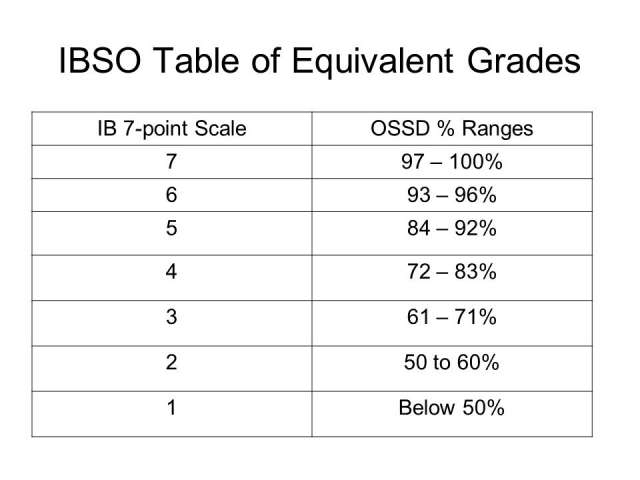 For in depth information on the California A-G graduation requirements please click the link below:
https://admission.universityofcalifornia.edu/admission-requirements/freshman-requirements/subject-requirement-a-g.html